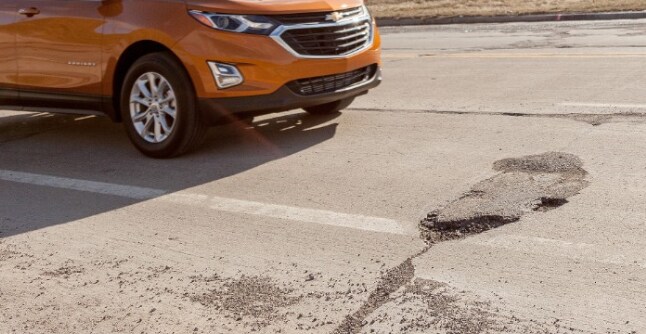 Now that spring has sprung, icy roads are long gone and in their wake, they leave roads full of potholes that can cause serious damage to your vehicle, in the end costing you money. Follow these quick tips from Chevrolet to make sure your car stays in tip-top condition.
Chevrolet engineers have developed a few tips and tricks to help you and your car survive pothole season.
1. Pay attention to the road and drive slower. By being alert, you can avoid potholes. Make sure to keep an eye on the road ahead and scan for potential potholes. If you happen to see one, try to avoid it safely. If there is no way to avoid it, slow down as much as you can before running over the hole.
2. Look out for water. Beneath puddles can be even deeper hiding potholes.
3. Make sure your tire pressure is on point. By properly inflating your tires, you can make a difference in how much damage you incur from hitting a pothole. If you maintain the manufacturer's recommended tire pressure, you can better avoid ruptures and other issues that are likely to occur to over- and underinflated tires when running over a pothole.
4. If you hit a pothole, check the vehicle for damage. Be sure to check your car immediately after for any damage that may have been done. Assessing your car can prevent any further damage.
5. Check more than just your tires. At times, potholes can cause more than just damage to your tires. Damage to the tire rims, alignment, exhaust system and so much more can happen. If you notice your car making odd noises, pulling left or right, or just functioning irregularly, bring it to our auto repair center in Arlington for an inspection.
6. Report potholes. In the occasion that you see any potholes, report them to your local city.
7. Preparation is key. Make sure you have a car jack and lug wrench in the occasion that you may need to change out a flat tire.
Keep these tips in mind and good luck out there!