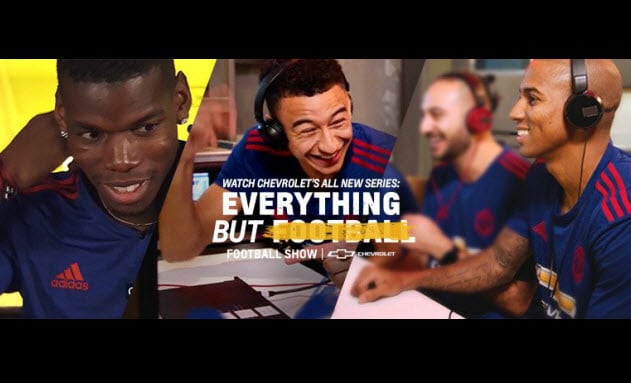 Chevy's brand-new content series, "Everything but Football, Football Show," is officially making its way to Twitter. The web show, which stands as the first-ever global video subscription service on the social media site, is geared toward soccer fans and will feature an array of interactive content designed to change the viewer experience.
Through a partnership with MOFILM and Commonwealth, Chevy was able to create their new video subscription web series for Twitter. To gain access to the show, Twitter users will have to retweet to subscribe, which will allow them to receive notifications each week when a new episode is released. The entire series will be split up into short segments that will premiere on Twitter Moments, and feature everything from pranks and interviews with professional soccer stars to trivia and much more!
With the new interactive series, Chevy aims to deter Twitter users from newsfeed-scrolling behavior and encourage them become a part of the video experience. Viewers will be able to partake in polls and trivia, as well as share highlights from the series, creating a new way to interact with web content.
"Using Twitter Moments and Retweet to Subscribe, Chevrolet is changing the video viewing experience from one that is passive, to one that is fully participatory and engaging, said John Gasloli, Global Chevrolet Marketing. It also keeps the user within the experience, allowing them to engage with all content without ever leaving Twitter."
Don't have a Twitter account? Sign up now to gain access to the "Everything but Football, Football Show" today.