The new Blazer is making big headlines these days for its stylish new look, sporty attitude, and out of this world feature lineup. Included in this lineup is the Chevrolet-first Cargo Management system that promises to give you more convenient ways to manage all your gear on the go. And while we've heard great reviews about the Blazer and look forward to seeing it in action, some folks are confused as to what the new cargo management system will include in it. We're here to clear up all misconceptions and let you know that Chevrolet did things right.
What is the Chevrolet-first Cargo Management System?
Cargo includes any non-human passengers you might want to take along with you in your new 2019 Blazer. This includes bicycles, furniture, or anything else that you need to take with you when you hit the road. The Cargo Management System will be featured on two prominent trims: The RS and Premier trims. If you want to grab the cargo management system, you'll need to buy one of these two trims. When you do opt for the management system, you're going to get some neat perks:
A bold, sturdy rail system
Cargo fence
And those two things are done completely and totally right thanks to Chevrolet's solid grasp of what their customers need. If you have an active lifestyle and need to take a bicycle with you, the rail system is absolutely one of the most important features of your vehicle. Without it, you can lose valuable property or even damage your bicycles or other cargo because of faulty cargo management systems. Chevrolet made sure to design this one with all sturdy materials and an easy to pack your cargo into one place design. The cargo fence is utilized to help secure all of your smaller cargo that might slip away during a journey and inconveniently get lost. With these two design perks, you're going to be able to pack your gear with you with ease and then hit the road.
The Premier and RS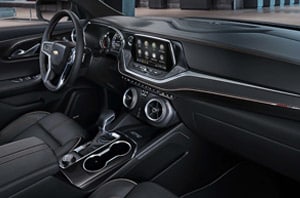 Since the Chevrolet-First Cargo Management System is only available on these two models, it's worth noting what else you get when you buy a Premier or RS. First things first: It's a bold, muscular look for both of these vehicles. The RS has a beautiful custom black mesh grille to help you arrive in style at the end of every journey. And the Premier has a beautiful interior, with leather-appointed seating surfaces to give you the ultimate amount of comfort as you go. And of course, everything in your vehicle is going to be safe and sound thanks to the cargo management system. Chevrolet was so excited to roll it out and the reception of the system has so far been an astounding thumbs up by people who have seen it in action.
The Cargo Management System will be out in full force in 2019, and we look forward to showing you each and everything you need to know about its goodness. And there's a lot to know. When you come in for a test drive of the Chevrolet Blazer RS or Premier, we'll show you how the cargo management system works and help you see the many other benefits to owning one of these two remarkable Blazer trims. And the appearance of the new Blazer speaks louder than anything else we might be able to tell you. It's a beast out there on the road, and we look forward to taking you out for a full test drive and demonstration of the cargo management system.