Take a Look Arlington Chevrolet Shoppers - the Tahoe has Arrived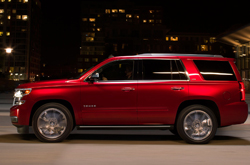 The Chevrolet Tahoe is by far one of the most popular SUV's on the market, and the 2015 Chevrolet Tahoe proves why.
Sporting a brand-new 5.3-liter small-block V-8 engine from the Ecotec3 family, the 2015 Chevrolet Tahoe in Arlington has the power and performance that many car shoppers look for in a SUV. And with its six-speed automatic transmission routing 355 horsepower and 383 lb.-ft. of torque, the Tahoe is the perfect SUV for those wanting a truck that not only sports terrific power, but also handles beautifully on a variety of smooth and difficult road surfaces.
And with a strengthened, fully boxed ladder frame and a new rounded front end, the 2015 Chevy Tahoe in Arlington definitely ranks high in the SUV pantheon.
The 2015 Tahoe has also added some terrific luxury features that produce an impressive all-new interior. New features include beautiful stitched leather and vinyl seats, a metallic-looking trim and a new tilted dashboard as well as an eight-inch touchscreen and keyless entry.
But it is the addition of Chevy's new Magnetic Ride Control adaptive suspension that really sets the Tahoe apart from other SUVs. The Magnetic Ride Control suspension uses tiny sensors to adapt to the various road surfaces that a Tahoe driver might encounter so that no matter where you're driving, you'll always have a smooth, safe ride in a Tahoe.
Speaking of safety, our 2015 Chevrolet Tahoe review loves all the terrific safety features that the 2015 Tahoe has, including adaptive cruise control, lane-change assist and forward collision alert.
So is the 2015 Chevy Tahoe the right SUV for you and your family? We think so! With tons of power, great features and a comfortable, safe ride, the Tahoe is the SUV that will make you one proud owner.