2011 Chevrolet Corvette Introduction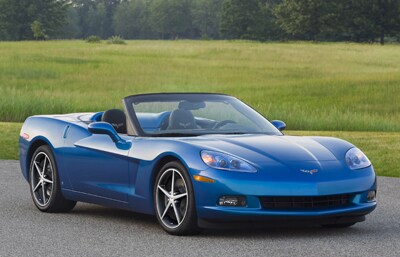 The Chevrolet Corvette is the best bang for the buck when it comes to serious performance. For the price of a midsize luxury sedan, the Corvette delivers supercar performance. It's easy to drive on a daily basis and maintenance costs are not exotic.
We love the Coupe, with either the manual or Paddle Shift automatic. It's blazingly fast yet it quickly infuses the driver with confidence. Its brakes are fantastic. The 6-speed automatic transmission works great and lives up to the advanced technology in the rest of the car; it can be shifted manually with levers on the steering column.
The Convertible on the other hand is plain wonderful. Drop the top on a nice day, pop in your favorite CD, and you might have what psychologists call a peak experience, a moment where you revel in being alive. It's a fantastic feeling, and at those moments the Corvette more than justifies its price. The aural sounds of the burbling V8, the body-colored trim that surrounds the cabin, the feel of power beneath, it is automotive heaven.
The Corvette can be a reasonably comfortable daily driver in most locales, for at least three of the four seasons. The latest-generation Corvette is a sophisticated car, and its performance does not exact a painful toll on driver or passenger. And, with all that performance, it still gets better fuel economy than most SUVs. The standard Corvette with 6-speed manual gets an EPA-rated 16/26 mpg City/Highway, 15/25 mpg with the 6-speed automatic.
The Z06 version is a true supercar for a price that's merely expensive, as opposed to insanely expensive. The Z06 is powered by the 7.0-liter 505-horsepower LS7 V8, has a lightweight chassis and is fitted with upgraded brakes. If any $75,000 car can be called a bargain, this is the one, at least in terms of raw performance. The Corvette Z06 accelerates faster, grips better and stops shorter than European sports cars that cost twice as much. And we find it easier to drive than a Viper. Indeed, it takes an expensive machine, well driven, to compete with a Z06. Fuel economy is an EPA-estimated 15/24 mpg with the manual, 14/20 mpg with the automatic.
Moving even further upward is the ZR1, a limited-production extremely high performance iteration that boasts a 6.2-liter V8 that's supercharged and cranks out 638 horsepower and 604 pound-feet of torque. It is the most powerful, quickest, fastest, most capable and highest-performing production car ever built by General Motors, which also makes it the highest-performing Corvette ever built, and carries a hefty price tag.
For 2011, Chevrolet has improved the Corvette with some modest changes. Most significantly, the Z06 has been upgraded with standard Goodyear Eagle F1 Supercar Gen 2 tires and revised exhaust tuning. A new Z07 option adds Brembo ceramic brakes, Magnetic Selective Ride Control, larger Michelin Pilot Sport 2 tires, and Competition Gray 20-spoke wheels (19-inches in front and 20 on the rear). A new Carbon Fiber package (code CFZ) adds a black carbon fiber splitter, rockers, and roof panel; plus a body-color, ZR1-style full-width rear spoiler. Larger, cross-drilled brake rotors are now offered on base models (and come standard with the Magnetic Selective Ride Control suspension). A handsome new five-slim-spoke wheel design distinguishes the 2011 Corvette from last year's. Contrasting-color headlamp housings (in Cyber Gray, Black or Blade Silver) and color-stitched interiors are available across the board, and all navigation-equipped Corvettes now come with a USB port.
1Dealer Discount applied to everyone.