2011 Chevrolet Cruze Introduction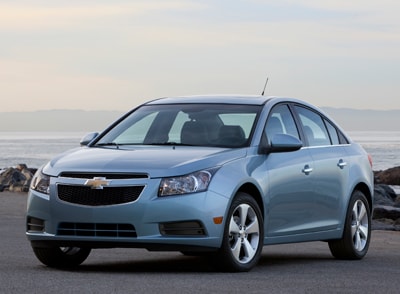 The new Chevrolet Cruze delivers almost everything we'd expect in a good compact sedan. It's the best small car GM has offered in North America in decades, by a substantial margin.
Launched as a 2011 model, the Cruze replaces the sturdy but boring Cobalt, and it's a great leap forward in technology, features and appeal. The Cruze was developed jointly by GM tech centers in Asia, Europe and the United States to battle in the most crowded part of the passenger-car market, with excellent new competitors like the Hyundai Elantra and Kia Forte, the best Volkswagen Jetta in years, and perennial leaders like the Honda Civic, Mazda 3, and Toyota Corolla. These are not necessarily competitors a newcomer wants, but the Cruze holds its own with all of them, and surpasses many in key areas.
Cruze is conservatively styled, to be sure, but in our opinion it's a well designed, handsome car. Its interior is one of the roomiest in its class, with acceptable space for four adults, and it's also one of the nicest. By the quality of materials, fit or function, it surpasses nearly all its competitors. Its trunk is also one of the largest in a compact sedan.
The 2011 Cruze is offered with a choice of two adequately powered engines: A 1.8-liter four-cylinder and 1.4-liter four-cylinder with a turbocharger. Both the manual and automatic transmissions have six speeds, which is rare in this class. The automatic offers some high-tech features that help conserve fuel. Across the line, the Cruze averages some of the best EPA mileage ratings among compacts. Yet if there's an area where Cruze falls below the benchmark, we might summarize it this way: Buyers seeking maximum acceleration in their compact sedan should probably consider one of those competitors.
In nearly every other respect, the Cruze runs near the head of the pack. Its steering is powered by electricity to save fuel, and its sharp, with decent feel. Ride quality is outstanding, yet the car is nimble, balanced and handles exceptionally well. The Chevrolet Cruze might be the smoothest, quietest compact offered in the United States.
For about $17,000 with destination charge, the base Cruze LS comes nicely equipped, with as much horsepower as the higher-trim models, air conditioning, six-speaker audio with standard XM satellite radio and power windows and locks. For $1,900 more, the Cruise LT adds the turbocharged engine, automatic transmission and a few more features, and it opens the car up to a wide range of options.
No matter which Cruze a buyer chooses, it comes with the most standard safety features in its class, including advanced electronic stability control, ABS, and a full compliment of 10 airbags. There are knee-protection airbags for front passengers, side-impact airbags for rear passengers, and head-protection curtains with rollover deployment. Every Cruze comes with GM's OnStar telematics system, including a six-month subscription for automatic accident response and other services.
The Cruze Eco delivers the best fuel economy. Its active aerodynamic features make it slipperier through the air, and it weighs more than 200 pounds less than other models. Its EPA rating of 42 mpg Highway is the highest for any conventionally powered car in this class, and higher than most subcompacts.
At the top of the range, the leather-lined, feature-laden Cruze LTZ offers technology that pushes the envelope for what many still think of as an economy car. It's available with a full-feature navigation system with 40-gigabyte hard drive, rear park assist, concierge services, premium Pioneer audio and remote starting.
A loaded LTZ will crack the $26,000 barrier, however, at which point the Cruze makes less sense for many buyers, unless they very specifically seek a smaller, fuel- efficient car that's loaded with the latest features. For that kind of money, the alternatives include larger, very nicely equipped midsize sedans such as the Ford Fusion, Honda Accord, Hyundai Sonata or Nissan Altima.
In final analysis, even import-inclined compact buyers should have a look at the Cruze. It has moved Chevrolet near the tip of the small car spear for the first time in memory.
1Dealer Discount applied to everyone.