2011 Chevrolet Equinox Introduction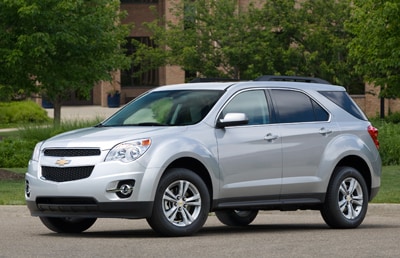 The Chevrolet Equinox was redesigned for 2010, and the second-generation model has been a resounding success. GM says that more than half of Equinox buyers have switched from non-GM brands, and that to keep up with demand, the company is retooling part of the plant to increase production capacity.
The 2011 Chevrolet Equinox comes with more standard equipment than the 2010, but it is otherwise identical. Some people believe the second year of production is the sweet spot because they've ironed out all the bugs but it's still new.
The Equinox has pricing and features of a compact SUV, but it's a little larger, and closer in size to a midsize SUV. And the Equinox comes with luxury and technology amenities not expected in its price class. In short, it's a good value.
Equinox offers a choice of four-cylinder or V6 engines. The standard 2.4-liter four-cylinder uses direct injection for more power and better fuel economy. A front-wheel-drive Equinox gets an EPA-estimated 22/32 mpg City/Highway. Lots of sound insulation makes it quieter than most four-cylinders and we think it's a capable engine. The available 3.0-liter V6 is rated at 264 horsepower and 222 pound-feet of torque, but we didn't think it felt much more powerful than the four-cylinder. So we recommend the standard 2.4-liter engine. The V6 does offer Flex-Fuel capability for 2011, however, if ethanol is your preferred fuel.
The current Equinox handles better than its predecessor, and ride quality is quite good. It is more carlike than the pre-2010 models, with less lean in turns. It's not sporty, but it's on par with its main competitors, including the Honda CR-V and Toyota RAV4. We found that the Equinox absorbs even sharp bumps without disrupting passenger comfort with either the standard 17-inch or available 18-inch wheels.
Inside, the Equinox has an attractively designed interior. There are some nice amenities, including ice blue ambient lighting, dual-zone automatic climate control, a hard-drive audio system, a dual-screen rear DVD entertainment system, and a power rear liftgate. The interior materials look and feel like hard plastic, though.
Equinox offers plenty of space for passengers and cargo. The front seats are comfortable and supportive, and they have 10 inches of travel, so drivers of all sizes will fit. The useful MultiFlex rear seat offers eight inches of travel, so tall passengers can ride in back or the driver can push the rear seat forward to carry more cargo.
Its roomy cabin and reasonable pricing make the Chevrolet Equinox attractive, and buyers can get some nice amenities they wouldn't expect in this price range. While the last model's handling was too sloppy for many, that problem has been remedied, making the Equinox a compelling choice in the entry crossover SUV market.
1Dealer Discount applied to everyone.