2011 Chevrolet Impala Introduction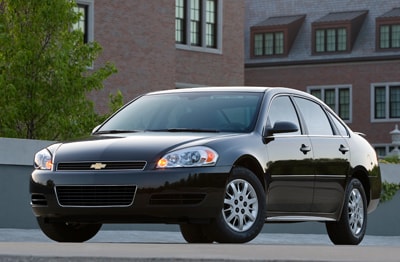 The Chevrolet Impala is a big family sedan close in size to the Toyota Avalon. The Impala is a comfortable and convenient car, practical and enjoyable to drive, with decent performance and fuel economy and competitive pricing.
The Impala competes with full-size cars, such as the Ford Taurus, Chrysler 300 and Dodge Charger, and mid-size cars, such as the Honda Accord, Toyota Camry and Nissan Altima.
Impala carries over to 2011 largely unchanged, though there are some minor packaging changes. 2011 Chevrolet Impala models are available with Bluetooth and the latest version of OnStar Gen 9.0. All 2011 Impalas come with body-color body side moldings.
The Chevrolet Impala is front-wheel drive with a choice of two V6 engines. The 3.5-liter V6 that comes standard on the Impala LT and LS models generates 211 horsepower and 216 pound-feet of torque and gets an EPA-estimated 18/29 miles per gallon City/Highway. The Impala LTZ comes with a larger 3.9-liter V6 rated at 230 hp and 235 lb-ft of torque and 17/27 mpg.
For 2011, both the 3.5-liter V6 and the 3.9-liter V6 are FlexFuel-capable, meaning they can run on E85 ethanol. Fuel economy drops precipitously with E85, however, tumbling 7 miles per gallon in both cases to 14/22 mpg for the 3.5-liter and 13/20 mpg for the 3.9-liter.
On the road, the Impala is very stable, a nice cruiser. There's lots of low-end torque from the 3.9-liter V6. Step on the gas and it goes. Given its size, the Impala handles well, and surprisingly so.
Inside, there's lots of room, in the front as well as the back seats, and getting in and out is easy. The Impala has a big trunk with a big lid that simplifies loading cargo, and it has a generous capacity. Optional flip-and-fold-forward rear seats are exclusive in its class, and provide not only holding wells for groceries but a flat cargo floor that expands the trunk for long items. Last redesigned for 2006, the Impala looks a bit long in the tooth.
Chevrolet Impala comes standard with StabiliTrak electronic stability control with traction control, and the latest generation of OnStar. OnStar will automatically communicate the nature and severity of a crash as well as the location of your to operators at the call center, who will notify emergency crews.
1Dealer Discount applied to everyone.