2011 Chevrolet Malibu Introduction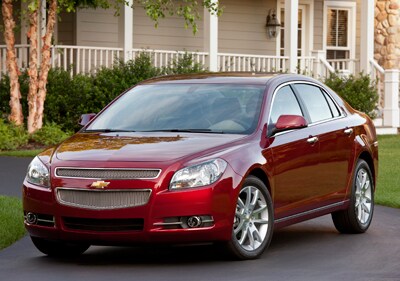 The Chevrolet Malibu midsize sedan blends a smooth ride with responsive handling, a quiet interior, effective crash performance and noteworthy build quality. We think the Malibu stands up well against the Toyota Camry and Honda Accord, the benchmarks for midsize sedans.
Malibu offers a choice of four-cylinder and V6 engines. A new fuel-saving 6-speed automatic transmission with TAPShift manual control is standard on all 2011 Malibu models. OnStar 9.0, the latest version with improved voice recognition, comes standard with six months of Directions and Connections service with Turn-by-Turn Navigation. Other upgrades for 2011 Malibu models include 17-inch bright aluminum wheels on the Malibu 1LT, and 18-inch Chrome Tech aluminum wheels for the Malibu 2LT V6.
Malibu offers value, with a lower purchase price, and good fuel economy: EPA City/Highway ratings of 22/33 mpg for the four-cylinder, 17/26 mpg for the V6.
The cabin is nicely designed, attractive, and everything is easy to operate, though there are some hard plastics that detract from an otherwise first-rate interior. The seats are very comfortable, with plenty of front-seat room. The back seats offer generous legroom. Trunk space is tight, however.
We found the Malibu pleasant to drive. It's smooth and comfortable, striking a nice balance between well-controlled handling and an even ride. It has with plenty of power when equipped with the V6.
Choosing among the best midsize sedans largely comes down to nitpicking, splitting hairs and personal preferences. The Camry and Accord may have an edge on resale value, but they're also likely to come with higher price tags. In any case, we don't see the gap between this Chevrolet and the imports that we used to see. Malibu, Camry and Accord, and the Ford Fusion are all superb midsize sedans. The Chevrolet Malibu was last redesigned for the 2008 model year.
1Dealer Discount applied to everyone.