2011 Chevrolet Silverado HD Introduction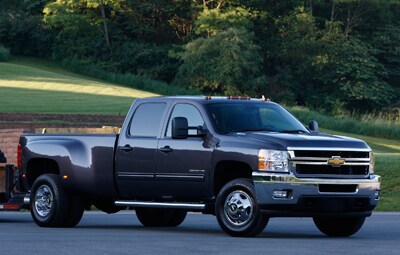 The 2011 Chevrolet Silverado HD is a substantially revised pickup truck that resets the bar in cargo ratings. You may recognize much of the interior and some of the body work but for pickups the latter is only important for keeping mud off your trailer. In the realm of HD pickups what matters is underneath and everything there has been gone through with a big torque wrench.
The standard gas engine and transmission have been mildly revised while the diesel gets a serious upgrade to 397 hp and more than twice the torque of the 6-liter gas V8, giving GM the strongest diesel and the least-powerful gasoline engines in the segment. Apart from two very small front suspension pieces everything in the suspension, steering, brakes, frame and ancillary systems have been redone. As a result, anyone with $40,000 and a driver's license can buy a pickup capable of towing a 10-ton trailer.
Silverado HD can also be configured to carry more than 6,500 pounds in dual-rear wheel configuration or 4,600 pounds in single-rear, so if you don't spend the winter plowing, routinely pull a heavy trailer or only need that load capacity once or twice a year a Silverado 1500 and occasional utility trailer rental make a lot more sense.
Although it's a work truck, the Silverado HD offers many conveniences some require as part of work, including Bluetooth, USB inputs, rear cameras with or without navigation, and navigation through a built-in system or OnStar's turn-by-turn directions; one requires a subscription, the other may require annual updates.
A choice of interiors is available, with different dashboards rather than merely varied finishes. You can have it sweep-out simple, or served up with heated leather, navigation, and an expensive-looking opaque shade for the moonroof. Regular cabs are roomy enough for three, extended cabs are ideal for younger families, while the crew cab is suitable for work gangs or full-grown families.
A well trimmed Silverado HD is the most car-like of big pickups, whether referring to interior appearance or driving feel. Yet it carries and tows as well or better than other heavy-duty pickups. With plenty of cab/box/trim/drive choices and option sheets to fill many pages, there should be an example to fit your honest needs and preferences. Alternatives are limited to the mechanically identical GMC Sierra HD, Ford Super Duty, and Ram Heavy-Duty pickups.
The 2011 Silverado HD offers five wheelbases in 2500 (3/4-ton) trim. It comes as a Regular Cab long bed (8 feet), an Extended Cab with standard bed (6-foot, 7-inch) or long bed, or Crew Cab with standard bed or long bed. The 3500-series (1-ton) is all long-bed except for a Crew Cab standard bed without dual-rear wheels. Some models are available with a pickup box delete for mounting your own or aftermarket body on. Fuel capacities range from 26 to 63.5 gallons with 36 gallons standard.
Standard Silverado HD power is a 6-liter gasoline V8 rated 360 horsepower and 380 lb-ft of torque in 2500 pickups and 322 hp, 380 lb-ft in all 3500 and box-delete 2500. It comes solely with a six-speed automatic transmission and 3.73:1 or 4.10:1 ($100) axle ratio. A 6.6-liter diesel (LML) is optional ($8395) for all but regular cab 3500 2WD and rated at 397 hp and 765 lb-ft of torque, with a required Allison six-speed automatic transmission and 3.73:1 axles only. A 6.6-liter (LGH) is rated at 335 hp and 685 lb-ft and offered only on box-delete trucks. Both diesels are B20-biodiesel approved.
There are three trim levels of WT, LT and LTZ, but some configurations and trims can't be combined; LTZ is limited to Extended and Crew Cab models. Expect to add $2,000-$3,000 to move from regular cab to Extended or Extended to Crew Cab, about $200 from standard bed to long bed, and about $3,000 for 4WD.
1Dealer Discount applied to everyone.