2011 Chevrolet Traverse Introduction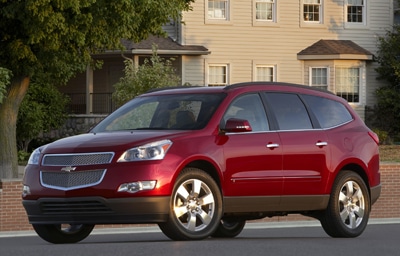 The Chevrolet Traverse is a large crossover SUV that seats seven or eight. Built more like a car than a truck, the Traverse is surprisingly nimble, with handling more like that of a family sedan than a big SUV.
We found the steering direct and responsive, if light, and the brakes easy to modulate for nice smooth stops. The ride is comfortable and much more stable than that of truck-based SUVs, which tend to lean in corners and bound over undulations. Though no lightweight, the Traverse is significantly lighter than a Chevrolet Tahoe, allowing the Traverse to deliver superior fuel economy and handling.
Traverse comes with a 3.6-liter V6 that moves it ably from a stop and provides decent passing punch. The V6 makes 281 horsepower, or 288 with the available dual exhaust system, and it comes with a smooth-shifting 6-speed automatic transmission. All-wheel drive is available for improved stability in wintry conditions.
Fuel economy numbers are better than those of most truck-type SUVs, but they're less than for the average family car. Fuel economy is an EPA-estimated 16/23 mpg City/Highway with all-wheel drive or 17/24 mpg with front-wheel drive. Given the spacious interior and eight-passenger capacity, the fuel economy is quite good.
Inside, the Traverse offers best-in-class space. The second- and third-row seats fold flat to open up a generous cargo area. Even with all the seats up, there is enough room behind the third row for a week's worth of groceries, and an available power liftgate makes it easy to access those groceries.
Cloth or leather, the front seats are comfortable and supportive. Room in the first and second rows is plentiful, and the third row is bigger than most and is even useful for adults. The dashboard is attractive, but there's more obvious plastic inside than we'd like at this price point. The controls are easy to reach and operate. An optional rearview camera makes backing this big vehicle up easier and safer.
Chevrolet Traverse shares its powertrain and platform with the more upscale Buick Enclave and GMC Acadia, so take a look at them if you want fancier furnishings. Benefiting from a strong unit-body structure similar in concept to that of a car, these big crossover SUVs make truck-based SUVs obsolete in terms of simply moving people and cargo. More stylish than minivans and far more fuel and space efficient than truck-based SUVs, crossovers like the Traverse are excellent family vehicles.
The Traverse is large, though, so it can be bulky in parking lot and parallel parking maneuvers. Conversely, if you're towing anything bigger than a bass boat, you'll want the Tahoe. Otherwise, if you're coming out of a truck-based SUV, you'll be quite pleased with the superior ride and handling of the Traverse. Plus, it gets better mileage and is more space efficient.
In short, we think the Chevrolet Traverse is an excellent family vehicle.
For 2011, changes are minimal. Aside from some new colors, the optional USB port has been relocated to the storage bin in the upper instrument panel. It connects portable music devices to the vehicle's audio system and charges batteries of some hand-held items. Heated cloth seats are offered on the 2011 Traverse LT.
1Dealer Discount applied to everyone.