2014 Chevrolet Spark EV Introduction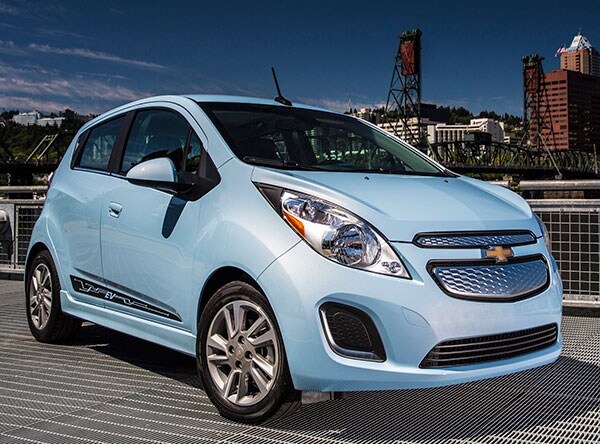 When you say Spark EV it comes out Sparky Vee, and that's this car's personality. It's sparky and spirited around town, and has the torque of a V8, a big V8, with 400 foot-pounds. The Sparky Vee flat shoots away from stoplights. The new BMW i3 costs nearly twice as much and only has 185 foot-pounds.
Chevrolet Spark EV has an EPA-rated range of 82 miles and gets 119 MPGe using the federal government's formula to determine fuel economy equivalent. With these numbers, Chevrolet claims that the Spark is the most efficient among the 10 EVs available for 2014. It's for sale in California and Oregon, with other states planned to follow. Those states have the most EV charging stations.
The Spark uses the same power system as the Volt, and many of the same components; in fact some of its parts are improved over the Volt's, with ongoing development. Technology is moving fast in the EV world (maybe a good reason to wait).
The 21 kWh (kilowatt-hour) lithium-ion battery pack (more juice than the BMW) has a warranty of 8 years of 100,000 miles, whichever comes first. If you drove a full charge per day, it would take 3.4 years to put 100,000 miles on your Spark.
Chevrolet says if you drive 15,000 miles per year in the Spark EV, you'll save $150 per month in fuel costs, after paying your electric bill (based on 23 mpg gas vs 12 cents per kWh of electricity). You can lease a Spark EV for $199 per month for 36 months, with $999 down.
Average electrical consumption, let's call it juice use, when you're driving around town is about 4.7 miles per kilowatt hour, according to Chevrolet default settings on the instrument panel. According to the EPA sticker, it's 3.57 miles (28 kWh per 100 miles). In Portland where we drove the Spark, electricity is cheap thanks to the Northwest's power-generating dams and windmills, at 8.5 cents per kWh. Our own number-crunching says the fuel cost is about 1.8 cents per mile according to Chevy, or 2.4 cents per mile according to the EPA.
Standard charging is by the 120V cord that comes with the car; it takes 16-18 hours to do a full charge. If your garage is wired for 240V (easy for an electrician to do), you can cut the time to 6-7 hours. For fast charging, meaning an 80 percent charge in 20 minutes or 50 percent charge in 12 minutes, you need to buy the optional $750 DC charger, and find an SAE-standard fast-charging station.
There is a growing pain in this industry, as most existing charging stations are built to a Japanese standard. They'll charge a Nissan Leaf, Mitsubishi MiEV or Honda Fit electric, but not the Spark. However the new SAE standard is expected to prevail, and converters are coming.
Charging can be managed remotely using the Spark EV smart phone app, provided by OnStar for three years. This way, charging can be done in the middle of the night when rates go down.
The Spark, General Motors' regular subcompact, was designed and is built in Korea (74 percent parts source), but the EV's motor and drive unit are built in the Baltimore (US and Canada parts, 8 percent). It's a 105 kilowatt hour motor, equivalent to 140 horsepower, good enough to give the Spark the best acceleration among current EVs, with a 0 to 60 time of 7.6 seconds (the lighter BMW i3 will be about 7.0). That snappy acceleration smokes the Honda Fit EV and Fiat 500e, with their times of 9.0 and 9.1 seconds.
The Fiat 500e is awfully fun too, with less torque than the Spark but still plenty, featuring Italian handling and style.
So if you drive an EV off a bridge into a river, will you get electrocuted? We wondered when we drove across one of the five bridges that cross the Willamette River to Portland.
The debate about whether or not an electric car makes sense is getting narrower. With costs and range like this, you can say they make sense if you live in a small town and never drive more than about 30 miles away, or if you live in the city and have a two-car garage. We know tons of those.
You can feel good that your Spark emits zero emissions, but you have to not feel guilty about using $7500 of taxpayers' money, the amount of the federal tax credit against the list price. Plus California gives you another two grand. EV buyers are the middlemen and women in Uncle Sam's purchase of clean air and its subsidy of electric technology. Also, the electricity used to charge the EV often comes from fossil fuels.
1Dealer Discount applied to everyone.