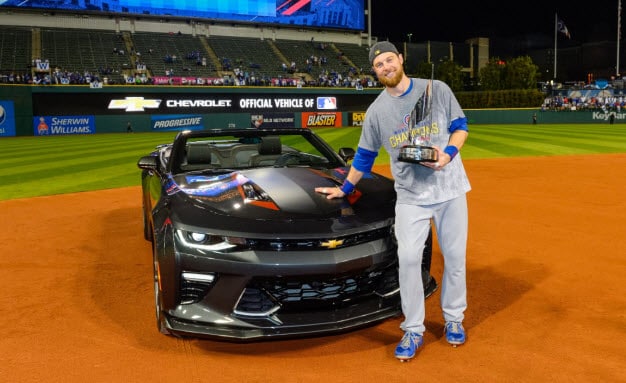 The Chicago Cubs dominated the 2016 World Series, winning four of seven games against the Cleveland Indians. A team contribution is what led to the Cubs' win, but there was one player who went above and beyond the call of duty: Ben Zobrist. Named MVP of the game, Chevy presented Ben with an all-new 50th Anniversary Edition Camaro SS Convertible in recognition of his stellar performance.
"In this historic matchup, Zobrist's performance on the field truly embodies the same 'Never Give Up' spirit that drives the Chevrolet team to innovate every day and that has made us the Most Awarded Automotive Brand two years in a row," said Paul Edwards, U.S. vice president of Chevrolet Marketing. "We are proud to recognize the tremendous efforts of Zobrist with the MVP award and the 2017 Chevrolet Camaro 50th Anniversary Edition convertible."
Unlike any Camaro that has come before it, the 50th Anniversary Edition features a Nightfall Gray Metallic paint job, a special grille with chrome accents, 20-inch 50th Anniversary wheels, orange brake calipers, a body-color front splitter, a black leather interior with orange stitching and 50th Anniversary badges. The package is offered on both 2LT and 2SS Camaro coupe and convertible models.
On the 2LT, a 2.0L turbo engine, delivering 275 horsepower and 335 lb.-ft. of torque, powers the car. The 2SS gets a 6.2L V8, generating 455 horsepower. Both engines are offered with a six-speed manual or eight-speed automatic transmission.