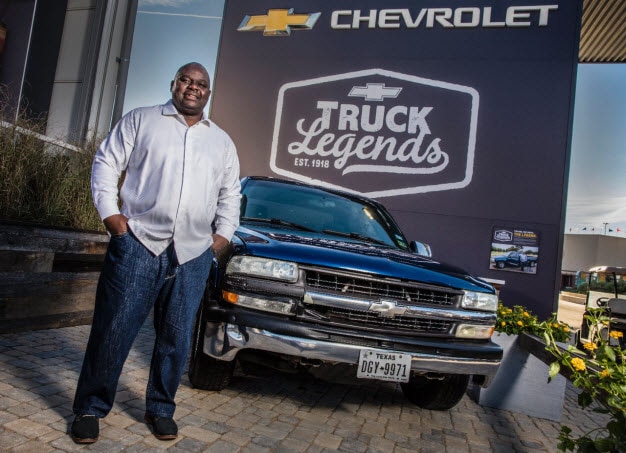 Chevy has named the Official Chevy Truck Legend of Texas and it is none other than Lonzo Anderson of Arlington. Owner of a 16-year-old Chevy Silverado with over 375,000 miles on the odometer, Anderson purchased his prized pickup truck brand new from your very own go-to Arlington Chevy dealership, Vandergriff Chevy.
On display now at the State Fair of Texas, Anderson's 2000 Chevy Silverado just goes to show you how reliable Chevy trucks are. He bought the pickup right after his previous car broke down on the side of the road and it has been loyal to him ever since, traveling the equivalent of 15 trips around the world.
"When the tow truck arrived to pick up my stalled car, I asked the driver to take me straight to Vandergriff Chevrolet in Arlington," said Anderson. "I bought my Silverado right then and there. From that point on I've driven my truck just about every day. Sixteen years and more than 375,000 miles later, I still demand a lot from my truck, and it always delivers."
Anderson's experience with his beloved Silverado is just one of many stories Chevy plans on highlighting as a part of their new Chevy Truck Legends customer appreciation program. Open to all Chevy truck owners with more than 100,000 miles on their truck's odometer, this FREE program is designed to honor true Chevy fans, giving them exclusive access to memorabilia, sneak peeks at future vehicles, and sold out tickets to sporting events and concerts.
Scheduled to launch nationwide in 2017, eligible truck owners can sign up for Chevy Truck Legends online now.
Also, if you're in the market for a new, dependable Chevy truck, be sure to stop by Vandergriff Chevy. We'll help you find just what you're looking for!