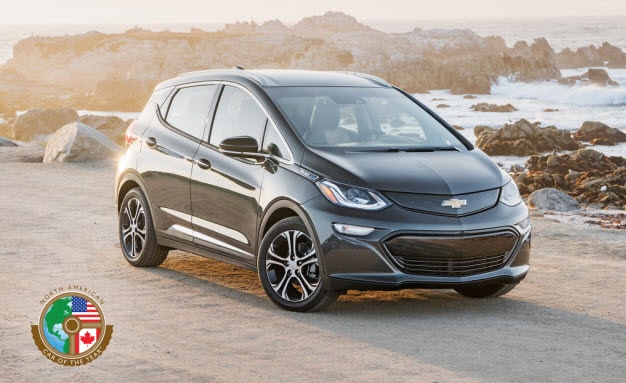 In an excellent achievement for Chevrolet, the Bolt EV won the 2017 North American Car of the Year award. This marks the fourth time Chevy has won the award in the past four years, as the Silverado and Corvette Stingray were honored in 2014 and the Colorado in 2015.
The North American Car and Truck of the Year committee evaluates several new models that are released during the year. The committee is made up of 60 professional automotive journalists from the United States and Canada.
The finalists for the 2017 award were announced in November of 2016 at the Automobility LA conference. Up against the Bolt EV were models like the 2017 Genesis G90, which were chosen from a list of 30 semifinalists to compete for this category.
The Bolt EV won by an impressive margin with 394 votes. It captivated the panel with its incredible range of 238 miles on one charge, without the assistance of a gas engine. It is the first American-made, fully electric and mass-produced car that provides an affordable alternative fuel option that is functional and fun to drive. It has proven itself as not only an eco-friendly option but also a capable long range car that drivers do not have to constantly worry about charging.
Mark Reuss, the executive VP of GM Global Product Development, said of the vehicle: "The Bolt EV fulfills Chevrolet's promise to offer an affordable, long-range electric. It is a game-changer that is not only a great electric vehicle; it's a great vehicle – period."
The 2017 Chevrolet Bolt EV was also named Motor Trend Car of the Year and Green Car of the Year.
Check out the selection of Bolt EV's and other Chevys at our dealership in Arlington.