Welcome to Vandergriff Chevrolet's Camaro Review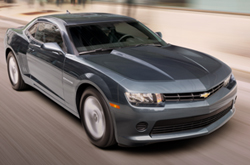 Coming off of a new redesign last year, the 2015 Camaro boasts fantastic power that has to be driven to be believed. With 500 horsepower and 470 lb.-ft. of torque, the 2015 Camaro still sports the same muscle it has always had, but with the addition of a little 21st century luxury.
And it's the Camaro's muscle that our 2015 Chevrolet Camaro review really loved. Imbued with a 7.0-liter LS7 V-8 engine, the 2015 Camaro is a powerful auto that is capable of truly impressive speeds, and with lighter materials used for the body frame, you'll find that this newest Camaro incarnation is its best version yet.
Our Chevy Camaro review also loved the retro styling of the 2015 edition that is reminiscent of the 1960s first-gen Camaros. And with the new gauge-cluster information center now moved to the center of the dash, the retro feel will truly come alive both inside and outside of the car.
Carrying over the trims from the 2014 model, the 2015 Chevrolet Camaro in Arlington is available in six trim levels: the Camaro, SS, LS, LT, ZL1, and Z/28.
But it's the Z/28 that most Camaro drivers will gravitate toward. Offering the best Camaro experience, the Z/28 has the speed, stability and safety necessary for such as powerful car. Test drive this beauty and find out for yourself how truly thrilling it is to drive!
In terms of its safety ratings, the 2015 Camaro just earned an overall five-star safety score from the NHTSA due in large part to its terrific Rear Vision package and Chevy's fantastic electronic stability control system.
So is the 2015 Chevrolet Camaro the sports car of your dreams? If you're looking for a powerful car that's fun to drive, but safe on the road, then look no further than the 2015 Chevy Camaro.