Welcome to Vandergriff Chevrolet's City Express Review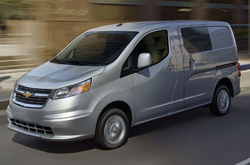 Looking for the perfect van for your small business? A van that has terrific cargo space as well as excellent tech features and interior amenities that are both functional and convenient? Then look no further than the 2015 Chevy City Express. Keep reading our 2015 Chevy City Express review for all the details on this fantastic new van.
Replacing the now decommissioned Express 1500, the 2015 Chevrolet City Express is the new cargo van that is perfect for the specific needs of small businesses in Arlington and the greater Dallas/Ft. Worth area.
Sporting a large interior with a 1,500 pound payload capacity and nice power output (131 horsepower, 139 lb.-ft. of torque), the City Express is the ideal van for small businesses who are based in the city or the suburbs. And adding to that its excellent turning radius of 36.7 feet, you won't know what you, or your business, did before this great fella came along.
The City Express comes in two trim levels (the LS and the LT) , but our 2015 Chevy City Express review recommends upgrading to the LT trim as it offers the best features and amenities such as stability control, anti-lock brakes and back-up sensors.
Another big plus for the LT trim is its infotainment and tech features that include remote keyless entry, Bluetooth connectivity, satellite radio, a navigation system and a 5.8-inch touchscreen.
So is the City Express the best van for your small business? You bet it is! Functional, affordable and well-equipped, the 2015 City Express is perfect van to meet all the specific needs of all of Arlington's terrific small businesses.
Come on down today to test drive the City Express and check out all the impressive features that this brand-new Chevy van has to offer.