About Vandergriff Chevrolet Corvette Reviews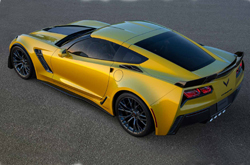 What "super car" gets 650 horsepower and 650 lb.-ft. of torque along with three levels of aerodynamic downforce features? Well that would be the newly rereleased 2015 Chevrolet Corvette Stingray. And our 2015 Chevrolet Corvette review has all the amazing details on this new Stingray, including all the new features and amenities that this newest Corvette has to offer.
With its intense power routed through an eight-speed automatic transmission (with a six-speed manual offered), the 2015 Stingray is the race car you can drive to work.
Reintroduced last year, the new Stingray model is a solid mixture of its classic past and its innovative future. With a gorgeous V-8 engine and a new, lighter aluminum body frame, the 2015 Chevrolet Corvette in Arlington adds a power and speed unseen until now. And all this power and aerodynamic body features mean a faster and more exhilarating ride.
The new trim level, the Z06, is the tier that most Corvette shoppers will be after as it swaps out the ZR1 as the top-selling Corvette trim.
Speaking of trim levels, the standard trim offers a front splitter and rear spoiler, while the next trim up offers a larger spoiler and aviation-style winglets. The top tiers add a transparent center section on the back spoiler as well as larger winglets, options that make the most out of the 2015 Stingray, and in the opinion of our 2015 Chevrolet Corvette review, make the Z06 the top choice for those looking to get the full Stingray experience.
So come by and test drive the 2015 Chevrolet Corvette in Arlington today, and be sure to check out all the fun and unbelievable features that this new Stingray incarnation offers. Trust us, you will wonder where this bad boy has been all your life.