Silverado Update from Arlington Chevrolet Research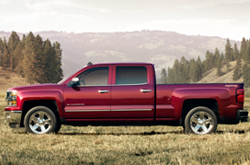 Chevy's Silverado pickup has always been one of the most popular trucks on the pickup market for a reason. Sporting unbelievable payload and towing capabilities, the Chevy Silverado remains to this day the ideal truck for any occasion.
And this year's 2015 Chevrolet Silverado adds not only a great deal of power, but also a great deal of luxury, and nowhere is this seen more than in the Silverado's newest incarnation, the Chevy Silverado High Country HD.
The Silverado High Country debuted last year and added a little bit of luxury to the Silverado's already powerful landscape. The Silverado High Country HD takes this one step further by not only upping its towing capacity to up to 22,900 lbs., but also adding impressive interior cabin features such as heated and perforated leather front bucket seats, a Bose audio system and a full saddle brown interior color.
Stepping back to the rest of the 2015 Silverado's trims, it looks like all versions of the Silverado got great new features. Offered in three trim levels: the 1500, 2500 HD and 3500 HD, the 2015 Chevrolet Silverado in Arlington comes with triple-sealed doors for reduced noise, a stiffer body frame and an upgrade in interior style by way of better quality materials.
The HD trims also come with upgraded towing capabilities that is due primarily to their terrific new engine cooling system that optimizes the Silverado's front-end sealing and aerodynamic ducts.
And as with other Chevy models, all variants and trim levels come with Chevy's MyLink system as well as several power and USB ports.
So does our 2015 Chevy Silverado review recommend this new and improved truck? You bet we do! With excellent power and towing capabilities as well as its impressively luxurious interior, the 2015 Silverado is the luxury truck you've been waiting for.