About the Chevrolet Sonic in Arlington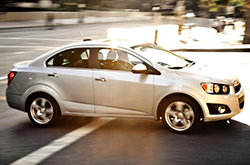 Not much has changed on the 2015 Chevrolet Sonic from last year, but this fun and quirky car adds a few terrific new features that are sure to impress. And our 2015 Chevrolet Sonic review has all the excellent new and fun features of Chevy's popular subcompact.
Coming in either hatchback or sedan body frames, the 2015 Sonic is imbued with your choice of either a 1.4-liter four-cylinder engine or a 1.8-liter four with the power funneled through either a six-speed automatic or manual transmission. Though we would go with the 1.4-liter as it has the best acceleration and mpg ratings of the two options.
Also consider the RS or LTZ trims when looking at trim levels as they offer the best versions of the 2015 Sonic, with the RS trim being especially recommended with its unique interior upgrades and sporty body style. Both trims offer Chevy's MyLInk system as well as steaming audio, a seven-inch touchscreen and voice recognition.
All trims come with Chevy's newest tech innovation, the 4G LTE Wi-Fi service with OnStar that is one of the coolest pieces of new car tech to come out this year.
And that's not all, the 2015 Chevy Sonic has even more terrific features coming to all trims including steering wheel audio controls, alloy wheels and remote keyless entry. All of these terrific features helped earn the 2015 Chevrolet Sonic in Arlington an overall five-star safety rating from the NHTSA.
So what is the recommendation of our 2015 Chevy Sonic review? Should this subcompact beauty be your next Chevy? We certainly think so. Well-equipped, fun and safe, the 2015 Sonic is one of the best subcompact cars on the market. So come on by and test drive this great car today, and see exactly what all the fuss is about.