About the Chevrolet Spark in Arlington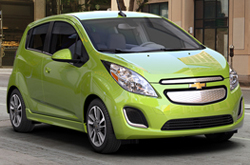 Everyone's favorite environmentally-friendly hatch back is back, and our 2015 Chevrolet Spark review thinks Chevy's mini-car is better than ever!
Just two years old, the 2015 Chevrolet Spark in Arlington is not only one of the most functional mini-cars on the market today, but also one of the most affordable. And with its topnotch engine, stylish interior and excellent safety features, it's no wonder that the Spark is one of the most well-reviewed mini-cars out there today.
The 2015 Spark carries over most of its predecessor's features and amenities with no major changes coming to the 2015 model. The biggest change is on the EV model that now comes with an all-new lithium-ion cell battery that has been reduced in weight so as to provide a much more energy efficient ride.
Carrying over last year's trims (the LS, 1LT, 2LT and the EV), the 2015 Chevrolet Spark in Arlington now offers the OnStar Gen 10 with 4G and Wi-Fi capability across all trim levels.
The gas-powered trims are imbued with a 1.2-liter four-cylinder engine with the power routed through a continuously-variably transmission or a standard manual gearbox. The real surprise of the Spark though is its giddy-up which has an output of 84 horsepower and 327 lb.-ft. of torque, meaning that this little guy can go from 0 to 60 in an impressive 7.2 seconds.
Infotainment features include Chevy's MyLink system with AM/FM stereo, music streaming capability and Bluetooth connectivity. iPhone users get Siri Hands-Free.
On the safety front, our 2015 Chevrolet Spark review was very pleased to see that the 2015 Spark was the only mini-car to receive an "acceptable" rating from the IIHS as well as an overall four-star rating from the NHTSA that included a terrific five-star rating for side and side pole crash test.
So is the Chevy Spark this mini-car for you? If you're looking for a functional, stylish and safe mini-car then look no further than the 2015 Spark.