About SS Reviews for 2015 from Vandergriff Chevrolet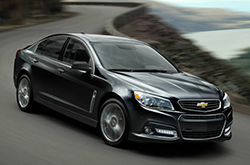 Reintroduced last year with a whole new redesign, the Chevrolet SS is the big and beautiful sporty sedan Chevy lovers have been waiting for.
Large and luxurious, the 2015 Chevrolet SS stretches 195 inches long and rises to almost 75 inches tall with a fantastically spacious interior and a wonderfully powerful engine.
Powered by a terrific 6.2-liter V8, the 2015 Chevrolet SS in Dallas-Ft. Worth boasts 415 horsepower, and with all that power funneled through your choice of either the standard six-speed automatic transmission or the new six-speed manual, the SS promises a comfortable and powerful ride.
But that's not the only feature that gives the 2015 SS such a quiet and smooth driving experience. For that you'd have to look no further than Chevy's all new Magnetic Ride Control adaptive suspension. A piece of terrific tech, the MRC suspension uses sensors to adapt the car to a variety of road surfaces in order to provide passengers with the smoothest and safest ride possible.
And speaking of safety, our 2015 Chevrolet SS review thinks that one of the best features available on the SS are its host of safety features. From ten standard airbags to Side Blind Zone Alert to a rear-vision camera, the SS has some of the best safety tools on the market.
Looking at infotainment, the 2015 Chevrolet SS in Dallas-Ft. Worth comes with an eight-inch color touchscreen, system controls on the steering wheel and hands-free calling, just a few tech features available with Chevy's MyLink system that comes standard on the SS.
So does our 2015 Chevrolet SS review recommend the SS as your next family sedan? You bet we do! With a gorgeous body frame, terrific safety features and fantastic amenities, the Chevy SS is the one and only choice for those wanting a safe, fun, sporty large sedan.