Learn More About the New Suburban From Vandergriff Chevrolet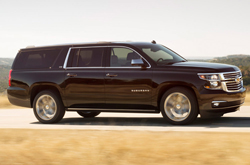 The Chevrolet Suburban turns eighty this year, and we couldn't be more excited about this new chapter in the Suburban's long and successful life. And our 2015 Chevrolet Suburban review has all the new, impressive features of this modern classic.
Debuting in 1935, the Suburban was the world's first introduction to the sports utility vehicle, and the classic car has never lost its popularity amongst the SUV buying populace.
The Chevrolet Suburban received a nice redesign last year, and this new model year keeps the same features and upgrades including the all-new 5.3-liter, small-block V-8 engine.
Part of the Ecotec2 family, the new 5.3-liter V-8 uses Active Fuel Management cylinder-deactivation, variable time and direct injection, all features that make the 2015 Chevrolet Suburban in Arlington one of the most surprisingly fuel efficient SUVs on the market. And with 355 horsepower and 383 lb.-ft. of torque, the 2015 Suburban trounces all previous models with its terrific power and performance.
Looking at the safety features, the 2015 suburban comes with everything from a lane-departure warning system to blind-spot monitoring to front-center airbags. But two of the best safety features that our 2015 Chevrolet Suburban review absolutely loved was the Suburban's head-up display that shows key vehicle information directly in the driver's line of sight and the haptic driver alert system mounted in the seat.
Tech and infotainment is also a big plus with the 2015 Chevrolet Suburban in Arlington as the SUV offers Chevy's excellent MyLink system, an eight-inch LCD touchscreen and keyless entry, all features that will have kids and parents alike loving their new SUV.
So what's the verdict of our 2015 Chevy Suburban review? If you're looking for impressive power, great tech amenities, terrific safety features and an ample amount of space then the 2015 Suburban is the perfect SUV for you and your family.