Vandergriff Chevrolet's 2015 Volt Review and Research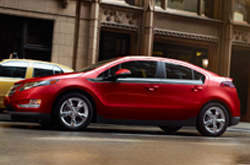 Premiering in 2010, the Chevy Volt has become one of the most beloved hybrid cars on the market. Volt owners love this little car, and our 2015 Chevrolet Volt review isn't surprised by all the praise.
The 2015 Chevy Volt added some great new features to its 2015 model including the biggest piece of news: the all-new lithium-ion battery pack.
The new battery pack is the pride and joy of Chevy's hybrid engineers as the automaker continues to strive for vehicles that rely less on gas and more on their electric engines. And boy does the Volt come through. Increasing the kilowatt-hours from 16.5 kWh to 17.1 kWh, the new battery allows the 2015 Chevrolet Volt in Arlington to go up to 40 miles solely on electric power. And what is the point of increasing this electrical output? Well as many Volt owners can already attest, the biggest and best feature of the 2015 Chevy Volt is that you can go nearly 900 miles between filling up at the gas station.
Outside of the new battery pack, the 2015 Volt hasn't changed much from the 2014 model. It's gorgeous, aerodynamic body frame still remains as does its sporty four seat interior. The best interior feature, in the opinion of our 2015 Chevy Volt review, is the fantastic vehicle information graphic displays that truly are some of the best in the business.
Add to that the Volt's excellent overall five-star safety rating from the NHTSA and its Top Safety Pick+ rating, it's no surprise that the Volt is considered to be one of the safest hybrids on the market today. Sporting standard features such as lane-departure warning, electronic stability and forward collision warning, the 2015 Chevrolet Volt in Arlington really is a top contender in its class.
So what's the verdict of our Chevy Volt review? If you want a safe hybrid with fun and functional features, then look no further than the Volt.