Chevrolet Dealership in Arlington Reviews the 2016 Volt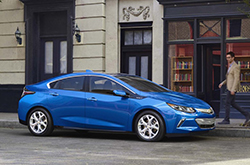 The all-new 2016 Chevy Volt has glided into a new generation of efficiency, performance and exceptional style. Offering a more extremely efficient electric car range, additional seating that fits five comfortably and contemporary technologies, the 2016 Chevrolet Volt in Arlington is an unbeatable choice for local drivers seeking a car with top-notch fuel economy, comfort and amenities. If you are looking for the whole package, you will truly find no compromises in the all-new plug-in hybrid that 2016 Chevy Volt reviews acclaim as a leader in the electric car segment.
The second-generation Volt uses a re-engineered Voltec propulsion system to offer drivers a class-leading 50 miles of electric vehicle range between charges. Plus, owners who charge regularly can receive up to 1,000 miles between fill ups. Traveling a little further between charges? That is no worry in the 2016 Volt. The 1.5L range extending engine kicks in as the battery decreases in order to provide long-distance capability and an incredible 41 mpg. And, with the now sportier exterior, the Volt looks just as agile as it drives.
Beyond the premier efficiency, the bold new Volt delivers exceptional convenience and comfort. Charging is now a breeze thanks to new GPS location-based charging technology, accessible charge status indicators and a handy portable cord set. Plus, the convenience doesn't stop there. Thanks to a standard 8-inch-diagonal touchscreen equipped with the Chevrolet MyLink infotainment center and available 4G LTE Wi-Fi capacity, the redesigned Volt offers drivers connectivity on the go. Wondering about safety? The Volt is an exceptional safety choice according to 2016 Chevy Volt reviews and the National Highway Traffic Safety Administration. Not only does the plug-in hybrid come standard with a rear-vision camera system and 10 airbags, but it also has an extensive available safety suite that includes forward collision alert, lane departure warning, advanced park assist and rear cross-traffic alert programs.
Efficient, safe and incredibly accessible, the 2016 Volt is the perfect car to showcase in the Dallas area. Whether you are looking for premium fuel economy or exceptional utility, you will surely be pleased with all that the 2016 Chevrolet Volt in Arlington has to offer.