Vandergriff Chevrolet is excited to be the foremost point for the Chevrolet Cobalt in TX. Vandergriff Chevrolet is an Arlington Chevrolet dealership and carries a extensive inventory of New Chevrolet Cobalt and top quality and high value Used Chevrolet Cobalt and other cars & trucks.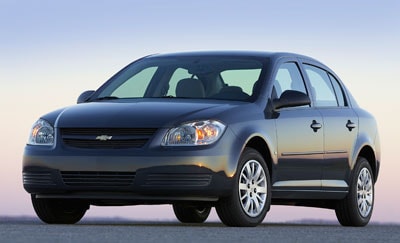 When shoppers compare the Chevrolet Cobalt to other makes like the Honda Civic, Hyundai Elantra and Nissan Sentra, the 2011 Chevrolet Cobalt shines as the most fun-to-drive. Starting with the 2010 Chevrolet Cobalt, owners found this affordable Compact Coupe's crisp handling and lively acceleration to be reason enough to choose.
You'll really like the Chevrolet Cobalt affordable small cars when you shop Vandergriff Chevrolet in Arlington
Available as either a two-door coupe or a four-door sedan, Chevy's segway into the small car segment brings an expansive, contemporary style in a compact package. The newest Cobalt's aerodynamic body style not only keeps up with the trends, but also gives the new Chevy an notably sporty and modern feel.
The 2011 Cobalt's front end shows off with an athletic grille, accessorized by standard daytime running lights and optional fog lamps. The car on its own rests pleasantly on available 17-inch alloys, which can be upgraded to a set of 18-inch aluminum alloys on the SS coupe. Arched fenders and fluid lines lead around the frame, over the integrated roof antenna and back to an available rear spoiler. The 2011 Cobalt also includes a fully independent suspension that is tuned to battle it out with the most stellar-handling sports cars. Except for the SS coupe, new Cobalts come powered by an overwhelmingly efficient 2.2-liter ECOTEC inline four-cylinder engine with Variable Valve Timing that makes an impressive 155 hp and 150 lb/ft of torque. SS models bolster the power plant to a turbocharged 2.0-liter VVT ECOTEC capable of a 260 hp and 260 lb/ft of torque. Compare Cobalt to Honda Civic, Hyundai Elantra and Nissan Sentra, and it easily comes out ahead in this category. While the 2.2-liter engine is controlled by a four-speed automatic transmission or a standard five-speed manual, the SS turbo features a five-speed manual only.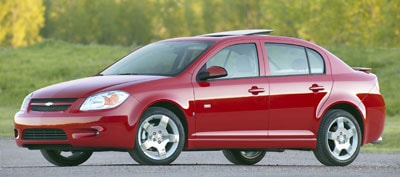 Despite each engine's enormous power, the true impressiveness of the Cobalt is in its shocking efficiency. The 2.2-liter four in XFE base, LS, and 1LT coupe and sedan models, ensure an astonishing 37 highway miles per gallon. When you compare this affordable small car to Honda Civic, Hyundai Elantra and Nissan Sentra, it precedes its competition. Cobalt 2LT trims give 35 mpg highway, and even the upgraded turbocharged SS achieves the 30 mpg plateau. TX's Vandergriff Chevrolet has a variety of Cobalts to browse through, including Cobalt Coupe, Cobalt Sedan, Cobalt LS, Cobalt 1LT, Cobalt 2LT, and Cobalt SS Turbo.
In sedan or coupe, the new front-wheel drive Cobalt includes a premium rear and front suspension, as well as available traction control to guarantee good grip, responsiveness, and smoothness. The versatile Cobalt is built to handle short city jaunts as well as long country roads. Cobalt's drivability is adorned with the SS's upgraded Brembo performance brakes and sport-tuned suspension. For a new Cobalt, or a used Cobalt, Vandergriff Chevrolet is your prominent choice!
Inside the cabin, Chevrolet's newest Cobalt takes combines value and versatility and takes it up a notch. Cobalt's style is continued in its cabin design, where comfort and space come together to create one of the most ample interiors in its class. An optional leather wrapped steering wheel and leather bucket seats complement the well designed dash, which comes with a Driver Information Center and numerous convenient and innovative systems. Beyond precise climate control, an available MYLINK Technology Package integrates Bluetooth Connectivity, as well as XM Satellite Radio and a USB into the cutting edge audio system. Also available is the OnStar system, which provides emergency response and turn-by-turn directions at the push of a button. For Cobalt drivers in TX, Vandergriff Chevrolet is proud to offer a variety of pre-owned 2009 Cobalts, 2010 Cobalts, as well as brand new 2011 Cobalts.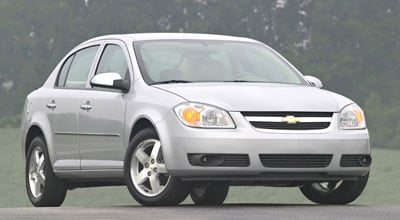 Safety is a priority for the Chevy Cobalt. It comes equipped with passenger and driver airbags, as well as side curtain and front airbags. Cobalt's available four-wheel antilock brakes provide amazing stopping power, and a standard tire pressure monitoring system ensures correct tire inflation for efficiency and peak performance. Chevy's comprehensive warranty coverage, which includes five-year/100,000-mile powertrain coverage, says a lot for Cobalt's quality and reliability, as well as further demonstrating Chevrolet's good reputation.
Here's the reasons why the Chevrolet Cobalt will be your favorite affordable small car in fascinating TX
Vandergriff Chevrolet offers the Chevrolet Cobalt a 2-door Compact Coupe which seats 4 people pleasantly. The Cobalt weighs 2743 pounds, is 180.5 inches long, 67.9 inches wide, 55.5 inches high, and the Chevrolet Cobalt's turning radius is 33.5 feet. notably ample for its class, the Cobalt has 38.7 inches of headroom in the front, and 42 inches of legroom up front. In the Cobalt's back seat, there are 35.7 inches of headroom and 32.2 inches of legroom. Need to bring a lot of luggage? The Cobalt trunk holds up to 13.9 cubic feet of your gear. So, relax and indulge!
Standard Chevrolet safety features included in the Cobalt are traction control, anti-lock brakes, side airbags, driver airbags, side-impact bars, seat-belt pre-tensioners, passenger airbags. With all these features, the Chevrolet Cobalt is always rated outstandingly by the IIHS and NHTSA.
The Cobalt also has a raft of comfort and convenience features, including power steering, remote locks, power windows, power mirrors, climate control, cruise control, air conditioning, power seats, adjustable steering wheel, and more! Especially nice are available hands-free phone and navigation. Test drive the Chevrolet Cobalt in Arlington at Vandergriff Chevrolet.
Like all Chevrolet cars & trucks, road handling and performance are top priorities for the Cobalt. Passing horsepower in the base Cobalt is 155 bhp @ 6100 rpm, and producing excellent torque 150 ft lb @ 4900 rpm foot pounds/rpm, the Cobalt accelerates in a flash from 0 to 60 mph in just 8.5 seconds. If you want to go that fast, the Cobalt has a top speed of 160 miles per hour. Despite this excellent power train output, the Chevrolet Cobalt's fuel economy is rated at 25 miles per gallon in the city and 37 highway miles per gallon. With a fuel tank capacity of 13 gallons, the Cobalt cruising range is well above average. Truly a performance car!
The Chevrolet manufacturer's warranty covers the Cobalt for manufacturing defects and has these specifications 3 years / 36,000 miles. Chevrolet has worked for years to minimize environmental impact, and the Cobalt's carbon footprint is rated at . Not surprisingly, with all these Cobalt advantages, this great Chevrolet Compact Coupe retains percent of its value at 3 years and 36,000 miles, which makes the Chevrolet Cobalt a great used buy!
When seeking safe, economical, sporty and stylish Compact Coupe, Arlington shoppers should head to the Chevrolet dealer of choice, Vandergriff Chevrolet at 1200 I 20 West in Arlington TX.