Vandergriff Chevrolet is fired up to be the primary point for the Chevrolet Corvette in TX. Vandergriff Chevrolet is an Arlington Chevrolet dealership and carries a full inventory of New Chevrolet Corvette and top quality and high value Used Chevrolet Corvette and other cars & trucks.
When shoppers compare the Chevrolet Corvette to other makes like the Porsche 911, BMW Z4 and Porsche Cayman , the 2012 Chevrolet Corvette shines as the most fun-to-drive. Starting with the 2011 Chevrolet Corvette, owners found this affordable Coupe 's crisp handling and lively acceleration to be reason enough to choose.
You'll go for the Chevrolet Corvette, luxury sports car, when you shop at Vandergriff Chevrolet in Arlington
The 2012 Corvette Coupe has briskly earned its well deserved reputation for the recent technology and for re-defining freedom in a sports car. It includes a standard 430 hp LS3 aluminum block V8 good for 190 mph on the track. For open-air driving, a removable roof panel is easily stowed. Hit the road with a an available six-speed paddle shift automatic or a standard six-speed transmission with launch control. The coupe provides unparalleled performance with Selective Ride Control.
The Grand Sport Coupe combines efficiency and performance that remains unmatched by competitors like Porsche 911, BMW Z4 and Porsche Cayman. Grand Sport Coupe sticks out in the crowd with its wide front fascia, front splitter, and fender flares. It also shows off with its Goodyear Eagle F1 Super car tires on the five-spoke Grand Sport Wheels. Add in a high rear spoiler and its racing technology and you'll see that Grand Sport takes a cue from Corvette's early days as a race car.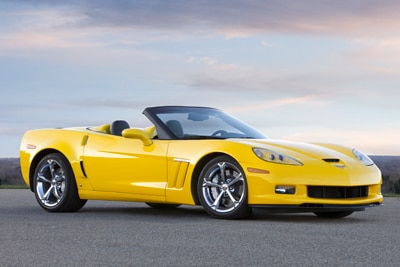 In 2005, the sixth generation Corvette Z06 left the sports car world in shock and awe. Getting its power from a 7.0 Liter V8 engine under an aluminum frame that also included using specific carbon-fiber components, the power-to-weight ratio remained unmatched. Shift forward to 2012 and all Z06 Corvettes come standard with new exhaust tuning as well as Goodyear Eagle F1 Supercar tires. MSRC,Magnetic Selective Ride Control, is also an option for the first time on the Z06.
The coveted ZR1, with its 638-hp supercharged LS9 engine ZR1 is the fastest GM produced car of all time, topping out at the track at top speeds of 205 miles per hour. The ZR1 was the overall winner of the 2010 Car and Driver Lightning Lap competition when it competed against the fastest cars in the world. With its weight saving components, carbon ceramic brakes, Performance Traction Management, and Launch control, it's easy to see why ZR1 is in limited supply.
The Chevy Corvette is for sale at your [Premier] Arlington Chevrolet dealership. The Corvette provides a [pleasant] driving experience and a smooth ride Whether you're looking for a gently used 2008 Chevrolet Corvette, a certified pre-owned 2009 Chevrolet Corvette, a pristine 2011 Chevrolet Corvette, or a brand new 2012 Chevrolet Corvette, Chevrolet Dealer, Vandergriff Chevrolet is your finest resource.
The details behind why the Chevrolet Corvette needs to be your number one luxury sports car in wonderful TX
Vandergriff Chevrolet offers the Chevrolet Corvette a 2-door Coupe which seats 2 people suitably. The Corvette weighs 3311 pounds, is 175.6 inches long, 75.9 inches wide, 48.7 inches high, and the Chevrolet Corvette's turning radius is 39 feet. incredibly comfortable for its class, the Corvette has 37.7 inches of headroom in the front, and 43.1 inches of legroom up front. In the Corvette's back seat, there are N/A inches of headroom and N/A inches of legroom. Need to bring a lot of luggage? The Corvette trunk holds up to 22.4 cubic feet of your equipment. So, spread out and have fun!
Standard Chevrolet safety features included in the Corvette are traction control, anti-lock brakes, side airbags, driver airbags, side-impact bars, seat-belt pre-tensioners, passenger airbags. With all these features, the Chevrolet Corvette is always rated highly by the IIHS and NHTSA.
The Corvette also has a raft of comfort and convenience features, including power steering, remote locks, power windows, power mirrors, climate control, cruise control, air conditioning, power seats, adjustable steering wheel, and more! Especially nice are available hands-free phone and navigation. Test drive the Chevrolet Corvette in Arlington at Vandergriff Chevrolet.
Like all Chevrolet cars & trucks, road handling and performance are top priorities for the Corvette. Passing horsepower in the base Corvette is 430 bhp @ 5900 rpm, and producing excellent torque 424 ft lb @ 4600 rpm foot pounds/rpm, the Corvette accelerates briskly from 0 to 60 mph in just 3.6 seconds. If you want to go that fast, the Corvette has a top speed of 198 miles per hour. Despite this excellent power train output, the Chevrolet Corvette's fuel economy is rated at 16 miles per gallon in the city and 26 highway miles per gallon. With a fuel tank capacity of 18 gallons, the Corvette cruising range is well above average. Truly a performance car!
The Chevrolet manufacturer's warranty covers the Corvette for manufacturing defects and has these specifications 3 years / 36,000 miles. Chevrolet has worked for years to minimize enviromental impact, and the Corvette's carbon footprint is rated at . Not surprisingly, with all these Corvette advantages, this great Chevrolet Coupe retains percent of its value at 3 years and 36,000 miles, which makes the Chevrolet Corvette a great used buy!
When seeking safe, economical, sporty and stylish Coupe , Arlington shoppers should head to the Chevrolet dealer of choice, Vandergriff Chevrolet at in Arlington TX.