Vandergriff Chevrolet is moved to be the foremost supplier for the Chevrolet Equinox in TX. Vandergriff Chevrolet is an Arlington Chevrolet dealership and carries a enormous inventory of New Chevrolet Equinox and top quality and high value Used Chevrolet Equinox and other cars & trucks.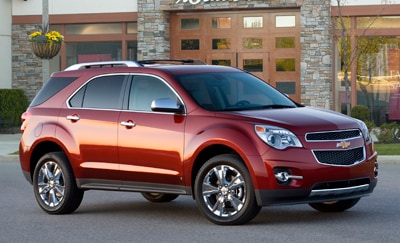 When buyers compare the Chevrolet Equinox to other makes like the Honda CRV, Toyota RAV4, Nissan Rogue and Ford Escape , the 2012 Chevrolet Equinox shines as the most fun-to-drive. Starting with the 2011 Chevrolet Equinox, owners found this affordable Compact SUV's crisp handling and lively acceleration to be reason enough to choose.
You'll really like the Chevrolet Equinox, affordable comapct suv, when you go shopping at Vandergriff Chevrolet in Arlington
The redesigned 2012 Equinox stands out among five-seat crossovers and simply gets noticed on the road due to its well thought out detailing and exclusive styling. The bold wheel arches and two-tiered grille share striking similarities with family members, like Traverse and Malibu. On the 2012 model, windshield base has moved up three inches to assist in improving aerodynamics without compromising passenger room. Add in wraparound rear glass and chrome accents, and the 2012 Equinox makes quite the impression.
Available in LS, LT and LTZ trim levels, the 2012 Equinox can be built to suit your specific needs. Powertrains are another strong point with a 2.4-liter Ecotec four-cylinder good for 182 hp as standard equipment. Equinox is also notable for fuel economy. A front-wheel drive four cylinder Equinox has an EPA highway economy estimate of 32 mpg, a significant increase from the previous generation, and 22 mpg city. Although there might be several cars that can achieve 32 mpg highway, there are very few compact crossovers that can. The six-speed automatic transmission flawlessly meters out the power and contributes to the economy. For an added bonus in fuel savings, there's an 'Eco' mode on the four-cylinder models that changes shift points and reduces the idle speed to be even more conservative with fuel.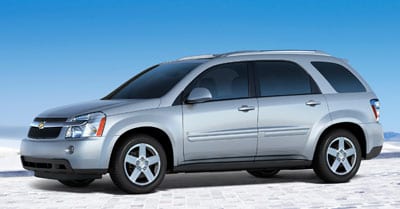 A 3.0-liter V6 option is also available, puts 264 hp in the engine. The V6 also has dual overhead camshafts with variable valve timing and sports direct injection. Available on the all-wheel drive is a feature that will appeal to buyers living in cold climates. Standard StabiliTrak electronic stability control with Rollover Mitigation and Traction Control also adds to its safety. The Equinox caters to you with its responsive and efficient powertrain and reputable performance in various conditions. The optional remote start system is intelligent enough to turn on the heat when it's cold out or the air conditioning when it's hot; it can even activate the heated seats in the perforated leather front seats.
The 2012 Chevrolet also encompasses several high tech features. It has a youthful looking instrument panel and dashboard with blue lighting. Additionally, Equinox has Bluetooth Connectivity, a touch-screen navigation system, superb audio system with USB connectivity and a 40GB hard drive, and rear-passenger seats with video screens available.
MultiFlex rear seats provide ample legroom, without compromising storage in the cabin. The Equinox uses Active Noise Cancellation on the four-cylinder models to add to the already top notch noise absorbing elements designed into the Equinox. The technology utilizes the audio system's speakers to combat road noise in a revolutionary application of high technology.
Here are the reasons why the Chevrolet Equinox has earned the right to be your treasured affordable comapct suv in magnificent TX
Vandergriff Chevrolet offers the Chevrolet Equinox a 4-door Compact SUV which seats 5 people pleasantly. The Equinox weighs 3779 pounds, is 187.8 inches long, 72.5 inches wide, 69.3 inches high, and the Chevrolet Equinox's turning radius is 40 feet. substantially ample for its class, the Equinox has 40.9 inches of headroom in the front, and 41.2 inches of legroom up front. In the Equinox's back seat, there are 39.2 inches of headroom and 39.9 inches of legroom. Need to bring a lot of luggage? The Equinox trunk holds up to 31.4 cubic feet of your equipment. So, take a breather and have a good time!
Standard Chevrolet safety features included in the Equinox are traction control, anti-lock brakes, side airbags, driver airbags, side-impact bars, seat-belt pre-tensioners, passenger airbags. With all these features, the Chevrolet Equinox is always rated outstandingly by the IIHS and NHTSA.
The Equinox also has a raft of comfort and convenience features, including power steering, remote locks, power windows, power mirrors, climate control, cruise control, air conditioning, power seats, adjustable steering wheel, and more! Especially nice are available hands-free phone and navigation. Test drive the Chevrolet Equinox in Arlington at Vandergriff Chevrolet.
Like all Chevrolet cars & trucks, road handling and performance are top priorities for the Equinox. Passing horsepower in the base Equinox is 182 bhp @ 6700 rpm, and producing excellent torque 172 ft lb @ 4900 rpm foot pounds/rpm, the Equinox accelerates quickly from 0 to 60 mph in just 8.3 seconds. If you want to go that fast, the Equinox has a top speed of 115 miles per hour. Despite this excellent power train output, the Chevrolet Equinox's fuel economy is rated at 22 miles per gallon in the city and 32 highway miles per gallon. With a fuel tank capacity of 18.8 gallons, the Equinox cruising range is well above average. Truly a performance car!
The Chevrolet manufacturer's warranty covers the Equinox for manufacturing defects and has these specifications 3 years / 36,000 miles. Chevrolet has worked for years to minimize enviromental impact, and the Equinox's carbon footprint is rated at . Not surprisingly, with all these Equinox advantages, this great Chevrolet Compact SUV retains percent of its value at 3 years and 36,000 miles, which makes the Chevrolet Equinox a great used buy!
When seeking safe, economical, sporty and stylish Compact SUV, Arlington buyers should head to the Chevrolet dealer of choice, Vandergriff Chevrolet at in Arlington TX.