The 2013 Chevrolet Malibu from Vandergriff Chevrolet is the symbol of passionate automotive craftsmanship built to fit the needs of TX Chevrolet enthusiasts. Vandergriff Chevrolet is delighted to present the 4-door 2013 Chevrolet Malibu Midsize Sedan. As your Arlington Chevrolet dealer, we hope you find our 2013 Chevrolet Malibu reviews and research materials invaluable in finding the elements, specifications and information you've been waiting for. View Vandergriff Chevrolet's new lineup of 2013 Chevrolet Malibu Midsize Sedans.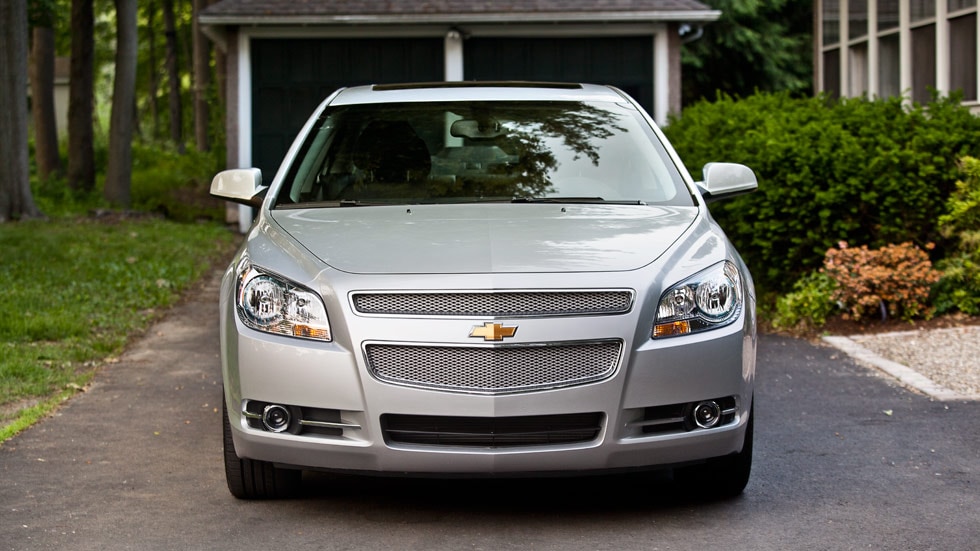 Vandergriff Chevrolet presents the 2013 Chevrolet Malibu Midsize Sedan
Consumers find that when they compare the 2013 Chevrolet Malibu to other makes like the Ford Fusion, Honda Accord and Kia Optima, the Chevrolet Malibu sets itself apart as the most fun to drive. Take a look at our Quick List table below to see why!
The 2013 Chevrolet Malibu has an starting MSRP of $25,235
The 2013 Chevrolet Malibu gets 25 city / 37 highway MPG
The 2013 Chevrolet Malibu goes from 0-60 MPH in 8.7 seconds
The 2013 Chevrolet Malibu features 42.1 inches of legroom up front and 36.9 inches in back
The 2013 Chevrolet Malibu features 39.0 inches of headroom in front and 37.6 inches in back
The 2013 Chevrolet Malibu is 191.3 inches long, 73.0 inches wide and is 57.1 inches tall
The 2013 Chevrolet Malibu weighs 3432 pounds and has a turning radius of 18.7 feet
We know you'll fall for the Chevrolet Malibu - visit Vandergriff Chevrolet in Arlington today!
Say goodbye to bland. The midsize car segment just got a tasty new treat added to the menu: the 2013 Malibu - now available at your premier Arlington Chevy dealer, Vandergriff Chevrolet! The completely redesigned, eighth-generation Malibu now flaunts a more prominent stance and sportier visage that uses much of the same design language as its relatives, the Corvette and Camaro. With its sleek new shape, the 2013 Chevrolet Malibu is anticipated to be SAE-certified as one of the most aerodynamically efficient vehicles in its segment. It is also expected to offer best-in-class highway mpg and best-in-class performance; pretty good projections for a vehicle that has often gone overlooked in the past. The 2013 Malibu has set a new industry benchmark for vehicles like the Ford Fusion, Honda Accord and Kia Optima, making a bold statement about what a midsize car can and should be. Experience true efficiency in motion - come test drive the new Malibu today!
Arlington Chevrolet shoppers can find the new 2013 Malibu in several trim levels including the Malibu LS, Malibu LT, Malibu LTZ and fuel-sipping Malibu Eco. Each is available in slick colors like Crystal Red, Silver Ice, Black Granite and White Diamond. Visit Vandergriff Chevrolet for more information about each trim and available package options!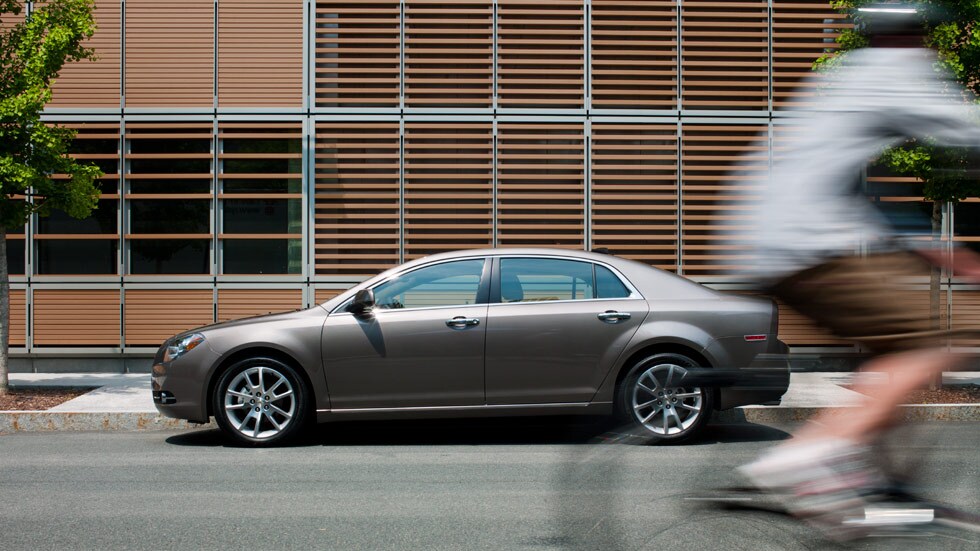 When behind the wheel of the 2013 Malibu, Arlington Chevrolet drivers can put the pedal to the metal without mpg remorse. The Malibu Eco is equipped with an all-new Ecotec 2.5-liter four-cylinder that delivers a V6-like performance while maintaining its status as one of the most fuel-efficient engines in its class. The Malibu LS, LT and LTZ come with a standard version of the 2.5-liter that also achieves impressive mpg scores. Later in the year, a 2.0-liter turbocharged upgrade will be available at Arlington Chevy dealerships. In addition to the Malibu's cutting-edge engine options, the sedan features other under-the-hood highlights such as large, ventilated front and rear disc brakes, which are projected to deliver segment-best stopping power. Electric, rack-and-pinion power steering gives the Malibu its responsive handling, while MacPherson strut front and multi-link rear suspensions provide a smooth, refined ride. Visit Vandergriff Chevrolet for a test drive today and learn more about all of the components that make the 2013 Chevrolet Malibu a great alternative to more expensive sports sedans!
The 2013 Chevy Malibu knocks 'em dead with its sleek new exterior styling, all-new dual cockpit design and long list of new features. The interior has been restyled and reformatted with 4 cubic feet of additional space for increased hip and shoulder room. In addition to being more spacious and more comfortable, the Malibu offers more safety, entertainment and convenience features. Arlington Chevy Malibu owners can stream and search for music on Chevy's MyLink in-car infotainment system, a technology which integrates wireless connectivity through Bluetooth to enable hands-free use of selected Smartphone apps. A navigation system is also available on the Malibu for the first time ever. In addition to this, the 2013 Chevrolet Malibu comes with new advanced safety features like a Lane Departure and Forward Collision Warning system, a rearview camera and 10 air bags.
The Eco is the first available trim in the lineup and Chevrolet Malibu reviews are already raving about its new design, stellar performance and exceptional fuel economy. The 2013 Malibu Eco gives a dash of flavor - and efficiency - to the midsize sedan segment. It offers better fuel economy than any other non-hybrid midsize sedan, and it is Chevrolet's most efficient midsize ever, delivering 37 mpg when coasting down the highway. Arlington Chevrolet shoppers will enjoy the Eco's smart technologies and driver-focused amenities. It includes features such as Bluetooth phone and audio connectivity, keyless entry, automatic headlights, a tilt/telescoping steering wheel, OnStar, heated mirrors, satellite radio, an iPod/USB interface, a touchscreen infotainment system and much more. The new Malibu LS, LT and LTZ also come with many of these same terrific features!
The midsize sedan class is one of the largest vehicle segments in the United States and now it has an option that truly escapes the cookie-cutter mold of many other vehicles in its class. Be the envy of the block and park a new 2013 Malibu in your driveway! Vandergriff Chevrolet will help you get the best price possible on the new Malibu with our latest Chevrolet incentives and financing options!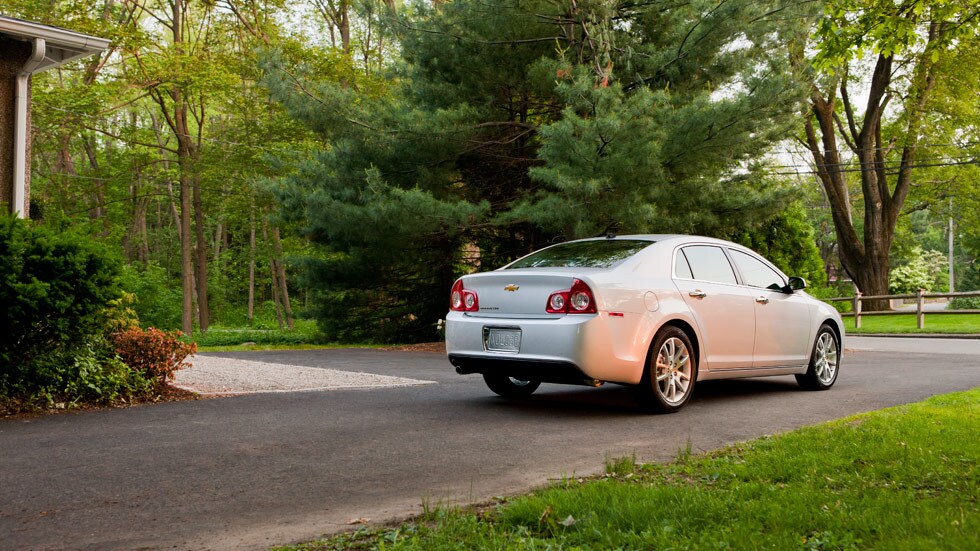 Owning a Chevrolet Malibu from Vandergriff Chevrolet makes TX driving convenient, safe and exciting - all at the same time! Here are the reasons why:
Vandergriff Chevrolet has a large assortment of 2013 Chevrolet Malibu Midsize Sedans with standard Chevrolet safety features like anti-lock brakes, traction control, driver airbags, passenger airbags, side airbags and more, making the 2013 Malibu an NHTSA and IIHS favorite. In addition to these safety features, the 2013 Chevrolet Malibu can amply seat up to 5 passengers. Trunk space with Chevrolet is never a worry; the Malibu can hold up to 14 cubic feet of your equipment, ensuring that your next drive is hassle-free. To top it all off, the 2013 Chevrolet Malibu includes an impressive list of comfort and convenience accessories like powered windows, mirrors, doors and locks, climate control, AC and optional hands-free phone and navigation systems. Take a test drive at Vandergriff Chevrolet today and experience the Chevrolet Malibu for yourself.
The Chevrolet manufacturer's warranty covers the Malibu for manufacturing defects and has a 3 years / 36,000 miles Chevrolet warranty. Chevrolet has worked for years to minimize its environmental impact; as a result, the Malibu's carbon footprint is minimal. Not surprisingly, with all of the Malibu's advantages, this incredible Chevrolet Midsize Sedan retains a high percentage of its value at 3 years and 36,000 miles, which makes the Chevrolet Malibu a great used buy! When seeking a safe, stylish and economical Midsize Sedan, Arlington Chevrolet enthusiasts should head to Vandergriff Chevrolet, located at in Arlington, TX
Chevrolet Malibu service information for Arlington
Chevrolet Malibu lessees and owners in Arlington have learned that Vandergriff Chevrolet at in Arlington is the very best choice for Malibu warranty work, regular maintenance, inspections and mechanical repairs. At Vandergriff Chevrolet, Certified Chevrolet Technicians trained in the very latest corrective and diagnostic techniques work for one thing - your complete satisfaction. Whether it's time for your Chevrolet to have an oil change, tire rotation, or simply undergo Malibu Scheduled Maintenance, Vandergriff Chevrolet is your first choice. Our Certified Chevrolet Mechanics also complete specialty jobs and repairs. Vandergriff Chevrolet is the smartest choice in Arlington for fast, considerate and professional Chevrolet Service of all kinds.
If you'd like to make an appointment to have your Malibu serviced, click the link or just give us a call. Visit us today!