There really isn't anything we haven't seen when it comes to brake damage. From routine brake service to replacing rotors that've been ground down to dangerous levels, our brake service center in Arlington has encountered it all.
If you think you're noticing any signs of wear that might need a diagnosis, we can assist you. Check out common symptoms below and schedule an appointment at our shop online.  
A GRINDING HALT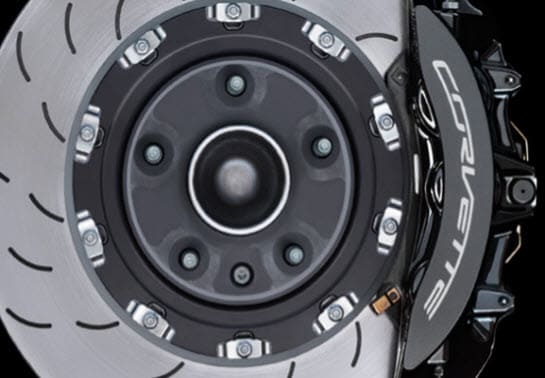 If you ever hear grinding when you hit the brake pedal, you should bring your car to our brake shop in the Dallas area immediately. This sound usually means that the brake pads have worn so thin that the rotor disc and caliper are touching, which leaves the rotor susceptible to scoring. Grinding is very dangerous because it can cause fading (i.e., reduced brake responsiveness) or lead to a complete failure if the brakes lock up.
In addition, there are cases in which a foreign object can get stuck in the caliper, which creates a grinding sound that occurs whether a driver is braking or not. In either case, if you hear this noise, our Chevrolet brake service center can help and you can even check to see if we have current car service coupons to help you save.
HIGH-PITCHED SCREECH
This warning chime is created by the brake wear indicator, a part triggered when a car's brake pads have worn below a specified level. If you hear this noise, visit us for your next brake pad replacement in the Dallas area. Replacing the pads at this point will prevent any further damage, such as harm caused by grinding that can lead to more expensive repairs. Check out our service specials to see if we have any current rear or front brake pad replacement coupons available now.
How Often Should I Change the Brake Pads on My  Chevrolet?

It's good practice to have your brake pads inspected at a minimum of once a year. However, when it comes to Chevy brake service, there is no exact service interval for changing  pads, because this is something that varies based on a variety of factors, including how much you drive, if you tow often, if you tend to come to hard stops  and more.
 

At What Thickness Should Brake Pads Be Replaced?

Again, this varies based on many factors, but when pads are down to 2.5-3mm, we advise replacing them immediately, or you risk scoring your rotor discs. If your pads are down to 2mm or even 1mm, this is hazardous and indicates that you need a brake pad replacement right away.
PULLING TO ONE SIDE
If your car is pulling to one side when you hit the brake pedal, you may have uneven brake wear, warped rotors or a caliper that's stuck. We can assist with all of these issues at our brake shop in the Dallas-Fort Worth area.
VIBRATION OR PEDAL ISSUES
Other common symptoms that drivers encounter with brakes are vibration, which can be caused by warped rotors, and having to hit the brake pedal nearly to the floor to get a vehicle to stop, which could mean that there's a brake fluid leak. In addition, if the brake pedal feels spongy, there may be air stuck in the brake lines.
I Need Brake Service Near Me
Then choose Vandergriff Chevrolet! We offer quality brake service in Arlington and our certified mechanics are experienced in working on all vehicle makes and models.
When it comes to brake pad replacement cost, we offer competitive prices. Plus, our shop provides free car washes with every service, a large lounge for guests who are waiting and complimentary refreshments. View specials now to see if Vandergriff Chevrolet is currently offering brake service coupons this month.
Whether you need Chevrolet Silverado, Camaro, Equinox or Sonic brake pads, as well as service for any other vehicle model, we're here to lend a helping hand. Visit us today at our dealership off Interstate 20 West!