Benefits of Chevy Tire Service
Watch this video to discover details regarding tire service and repair.
Do you need tire replacement or tire service near Dallas? Schedule an appointment with our service center at Vandergriff Chevy to have your car assessed as soon as possible. With nearly 11,000 car accidents a year caused from tire failure, making sure you have well-maintained tires on your Chevy car is vital to its performance and your overall safety.
As experts in the automotive business, we encourage all of our customers to receive annual tire service, including wheel alignment and tire rotation in Arlington, in order to prevent tire failure and prolong the life of their tires. Car owners should also complete regular at-home inspections to determine if their tires have been damaged.
Top Signs You Have Tire Damage
The best way to avoid premature tire wear is keeping an eye out for signs of tire damage. Here's what to look for next time you perform a routine tire inspection:
Low Tire Pressure - Use a tire pressure gauge to determine if your tires are inflated to the proper psi. If you notice select tires are well below the recommended psi, you may need new tires. Your tires should deflate at a rate of one pound per square inch per month.
Shallow Tread - Use the penny test to check the tread on your tires. Place the coin with Lincoln's head pointed down into the tread. If you can see the top of his head, you need tire replacement near Dallas.
Bulges & Foreign Objects - Bulges in your tires are often the effects of slow air leaks. This can be caused by a number of factors, including foreign objects such as nails or rocks. Always bring your car in for service at our dealership if you notice any of these troublemakers.
Performance Issues - If your car vibrates or pulls to one side, it may be time for new tires. Performance problems can often indicate your tires are damaged and need to be serviced.
Chevy Tires For Sale Near Fort Worth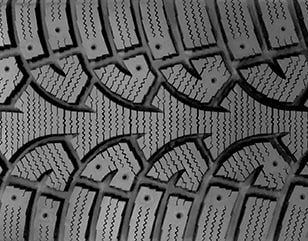 Avoid discount tire shops in Arlington. Purchase from the experts at Vandergriff Chevy. Our team of factory-trained service technicians can help you find the proper tires for your Chevy vehicle. From Michelin tires and Goodyear tires to Bridgestone tires and Firestone tires, we have everything you're looking for!
In addition to our inventory of tires for sale, we also offer several tire services for Chevy owners in need of tire maintenance. We specialize in tire rotation and wheel alignment in Arlington, along with other services. Please contact us today if you find yourself in need of tire service or replacement near Fort Worth.
Service Hours
Monday

7:00 am - 6:00 pm

Tuesday

7:00 am - 6:00 pm

Wednesday

7:00 am - 6:00 pm

Thursday

7:00 am - 6:00 pm

Friday

7:00 am - 6:00 pm

Saturday

7:00 am - 4:00 pm

Sunday

Closed