Are You Wondering, Where Can I Find a Chevrolet Transmission Specialist Near Me?
If you are like many Chevrolet owners, you regularly drive your vehicle for commuting, running errands around town and more. As you regularly put miles on your vehicle and as it gets older, the critical systems that are vital for its operation can run into significant issues. The transmission is one of these vital systems, and it must receive regular service in order for it to continue to do its job properly. The transmission is one of the most important systems in your vehicle, and this is because it is the primary controller for managing the torque and power output generated by the engine. Any issues related to the transmission can immediately interfere with your ability to use your Chevrolet as desired. Nobody wants to deal with auto repair issues. Servicing your Chevy's transmission periodically as recommended is a great way to ward off bothersome and stressful breakdowns. When your Chevy needs transmission work completed or when you have any other automotive service concerns, our certified auto technicians are ready to get to work for you.
What Is the Typical Transmission Service for a Chevrolet?
When you take a closer look at how your vehicle's transmission works, you will notice that transmission fluid is an essential component. This typically semi-transparent and viscous liquid is essential for managing heat and minimizing the effects of friction that are generated through the transmission's operation. The liquid's ability to properly do its job to protect the transmission's components is limited when it becomes saturated with dirt. When this happens, the liquid is murky and opaque. It may be much thicker as well. Removing the dirty fluid and replacing it with fresh transmission is a vital and regular maintenance service that your transmission needs. This can be accomplished through either a transmission flush or a fluid change. While each vehicle is unique, a typical recommendation for transmission fluid service is to have it completed within each two to three-year time period or roughly every 30,000 to 45,000 miles.
Which Type of Transmission Fluid Service Is needed?

A fluid flush involves taking all fluid out of the system and replacing it with fresh fluid. This includes removing old fluid from the cooler lines, the torque converter and the transmission pan. The transmission filter is usually replaced as well. A transmission fluid change only replaces the old fluid in the pan with fresh fluid and gives you a new filter. Some of the dirty transmission fluid remains in the vehicle with a fluid change. If you regularly get your Chevy professionally serviced, a fluid change may be all that is needed to keep your transmission running well. A fluid flush is a smart idea if you usually go longer between maintenance services or if your car's transmission fluid is exceptionally dirty.
How Can I Tell If Transmission Repair Work Is Needed?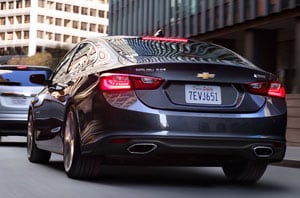 Your Chevrolet may have several indicators that reveal possible transmission damage. For example, an obvious sign is if the "service engine" light is illuminated. Other signs include leaking transmission fluid underneath the Chevy, a burning smell and rough movements when driving the vehicle. Regardless of whether your Chevrolet needs transmission maintenance or repair work completed, you can feel confident that it is in great hands when you trust us to do the work for you. To request an appointment for a time that is convenient with you, contact our office today.